When you buy a home, you want to make sure you have access to areas in the home. The attic is one of those areas. Sometimes the door is visible, sometimes it is hidden. If you are the seller, you want to make areas look as aesthetically pleasing as possible. How to hide attic door in ceiling? You can conceal it by adding a lightbox or by adding decorative panels to make it more visually pleasing.
Let's take a look below at all of the recommended ways to hide an attic door in your ceiling.
What Is An Attic Door?
There are two different types of attic doors. There are attic access doors are usually 2×4 openings. This is in the wall or ceiling and usually, a big enough size so most people can fit through it. In addition, it also is large enough for a folding ladder. The other type is a scuttle attic. This is a drop-down attic door often seen in older homes and has a ladder that drops down and folds.
Scuttle Attic
A scuttle attic is the opposite of an attic access door. It is an opening in the garage, but can't be hidden. This is because it has plywood or sheetrock that holds it in place with wood framing. Whether you have an attic access door or an attic scuttle, they allow for access to the attic.
Now that we know the difference between an attic access and a scuttle attic, let's take a look at how to hide an attic door in the ceiling.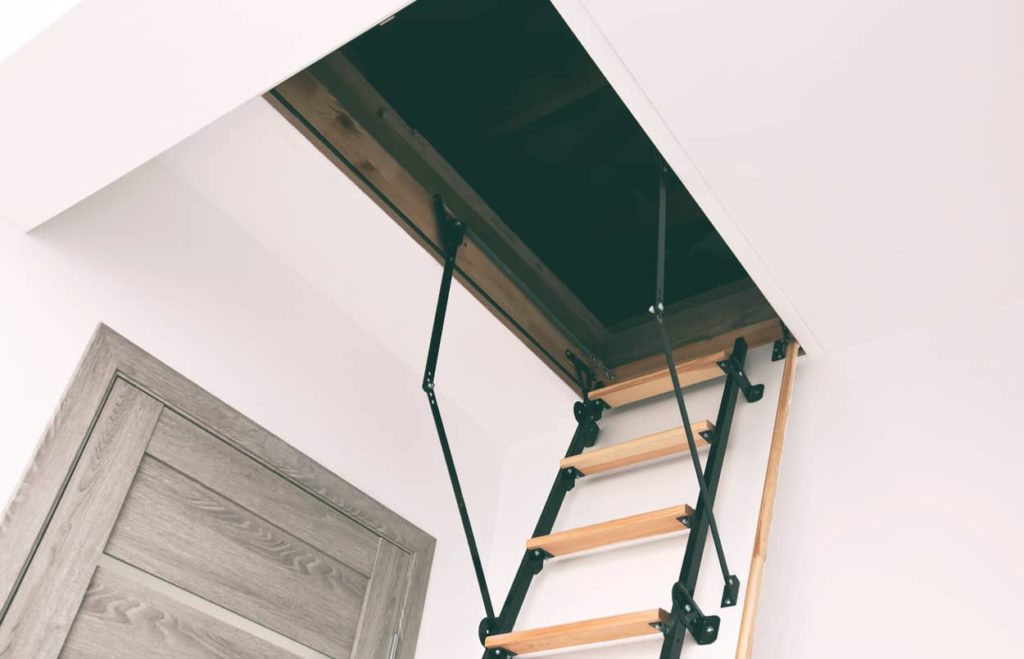 How Do I Hide It?
Some people think it is a good idea to hide an attic door so there are a few ways to do that. It just depends on the route you as the homeowner want to go. Let's look at some different ideas.
Recessed Door – this type of door blends into any surface and makes a nice transition to the ceiling. The recessed door is completely concealed because the door frames are installed before the drywall is hung in the wall.
Decor – it is pretty easy to divert the eyes away from the attic door by adding vases, small furniture, or plants. Adding paintings can also help.
Artwork – you can create a mural decoration on the outside of the attic door. This can be painted on and it can match the ceiling as well. Visitors to the home will also like the artwork.
Decorative Lightbox– you will need to hire an electrician if you want to add a lightbox to conceal the attic door. This is because the lightbox sits on the attic door and looks like a light that is suspended. The downside to this option is that if you need to access the attic space often, this could cause the lights to break.
Pull Cord – this is a popular choice as having a pull cord to pull the attic ladder down is easy for most people to do and utilize. Additionally, adding a handle will make it easier to pull the attic door down and access the ladder.
How Much Does It Cost?
The cost will vary depending on if you have just an attic ladder or a door in the attic scuttle. Usually, depending on how fancy you want to make the desired look will determine the amount of money you spend. A simple design will probably cost about $300. If you need to add an attic ladder, that will range from $30-$40 and will be able to match the ceiling and ensure you can't see any seams. With materials and labor this can cost between $450 and $700.
Take a look at the video below about how to add an attic access door with some design.
Other Recommended Maintenance
Now that you know about hiding an attic door, you can look at a few other areas for maintenance. One of those is how to keep the attic cool in the summer. One of the ways is to use light-colored shingles or add attic ventilation fans, passive vents, attic insulation, or metal roofing.
Next, you might have attic condensation in your attic. If you do, this can be due to poor sealing in ventilation, insulation, and the attic. You will know if you have this problem if there is any rust on the roofing nails or damage to the roof sheathing.
Lastly, if you want to get rid of mold in the attic, there are a few things you need to do. Using vinegar and water, alcohol, and find the source of the mold. You may need to contact a professional if it is a roof leak or something worse.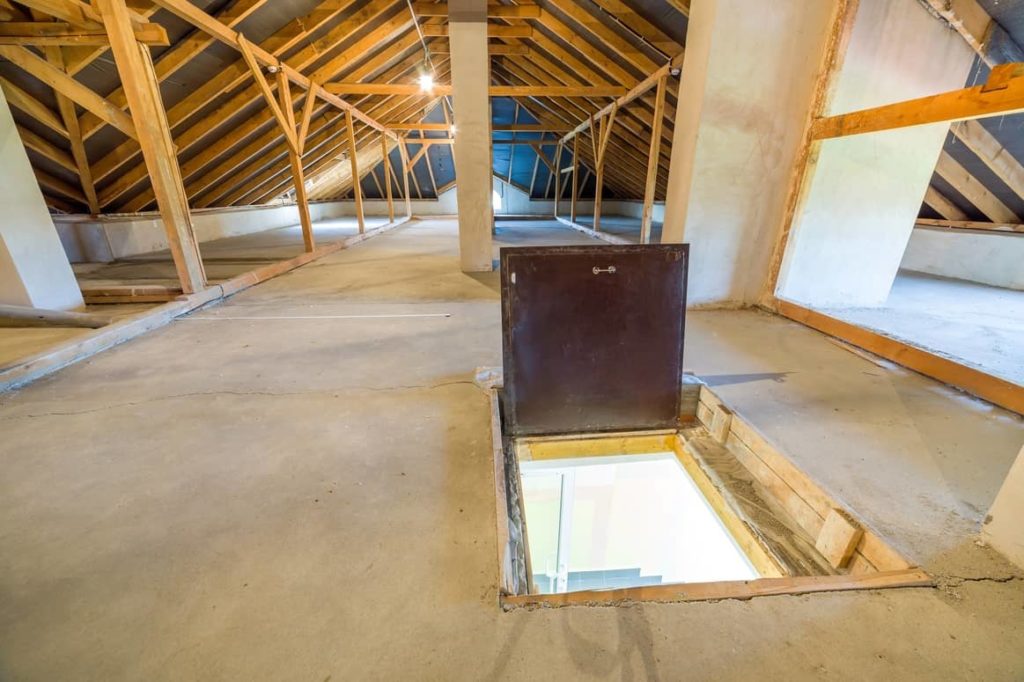 When Do I Call A Professional?
When you are dealing with an attic space it is best to call on a local contractor that has experience installing a scuttle attic ladder or a concealing attic door. Although you can come up with some great ideas to hide or conceal the attic door, you might want to use a professional contractor to assist. Additionally, reach out to your local home inspection team. They can inspect the area where the door or ladder will be installed and provide some new ideas as to what has looked good in other homes. Also, they can refer you to a reputable installation contractor.
Conclusion
Adding features to your newly purchased home or updating your older existing home could be a lot of fun. However, you will want to make sure to consult some local professionals. Hiding or concealing an attic door can be accomplished in a variety of ways. However, you want to make sure that the design or idea that you have chosen works for your home. Don't be afraid to call on your local home inspection team. They can offer up some up-to-date ideas that would work for the aesthetics of your home. Additionally, they will refer you to a reputable local general contractor. Call on Waypoint Inspections, we will take a look at your attic needs while conducting home inspections in Tampa and Central Florida.